What is TRELEGY?
TRELEGY is a prescription medicine used long term to treat asthma in adults. TRELEGY is not used to relieve sudden breathing problems and won't replace a rescue inhaler.
TRELEGY is the first and only once-daily triple therapy in a single inhaler for asthma. This means that 3 medicines work together to help you breathe better by preventing and controlling asthma symptoms for a full 24 hours, all day and all night. TRELEGY also helps improve lung function.
Your results may vary.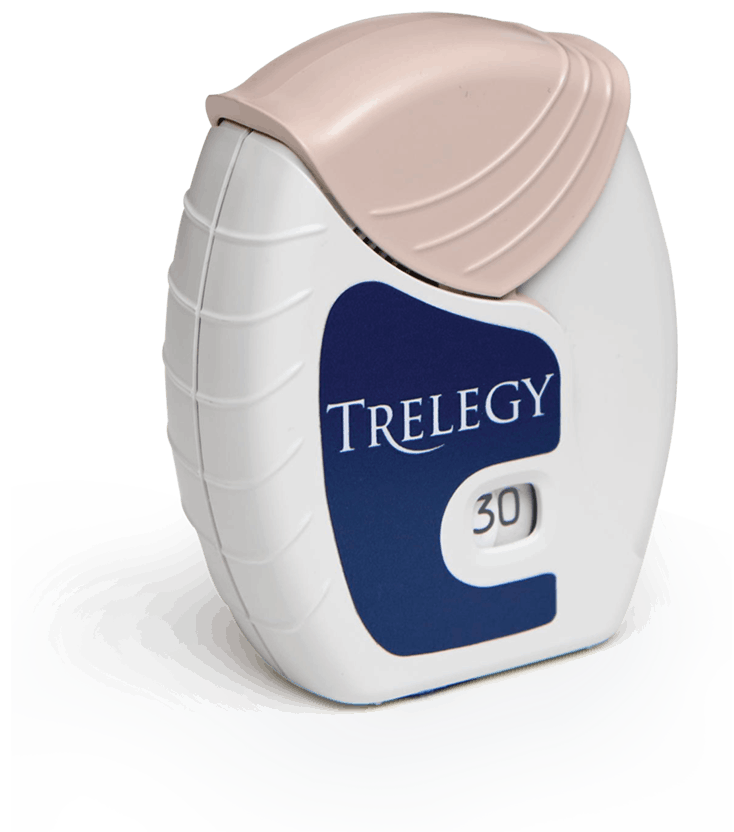 One dose, once a day
Keeping up with your asthma treatment can be simple with the convenience of once-daily dosing with TRELEGY in the easy-to-use ELLIPTA inhaler.
See full Instructions For Use.
24 HOURS
OF ASTHMA TREATMENT
Triple therapy with TRELEGY
You may be using a maintenance inhaler that contains 2 kinds of medicines: an anti-inflammatory medicine called an ICS (inhaled corticosteroid) and a medicine that opens airways, called a LABA (long-acting beta2-adrenergic agonist).
But TRELEGY is different. TRELEGY contains an ICS and a LABA—but it also contains a third medicine called a LAMA (long-acting muscarinic antagonist). A LAMA blocks the tightening of smooth muscle around your airways to help KEEP them open.
So, if you're still experiencing asthma symptoms on a 2-in-1 treatment, it might be time to ask your doctor about trying something different.
Take triple action against your asthma symptoms
The 3 medicines in TRELEGY work to help get asthma under control by helping you breathe easier and improving lung function for a full 24 hours. If you're still having symptoms with your current medicine, this is what TRELEGY could mean for you:
PREVENT SYMPTOMS FOR 24 HOURS
Improve lung function with TRELEGY
The triple medicine combination in TRELEGY is significantly more effective at improving lung function, compared with 2 of the 3 TRELEGY medicines.
lung function improvement with TRELEGY*
*Compared to those taking 2 of 3 medicines in TRELEGY, patients taking low-dose TRELEGY had an improvement in FEV1 of 134 mL vs 24 mL, while patients taking high-dose TRELEGY had an improvement in FEV1 of 168 mL vs 76 mL. FEV stands for forced expiratory volume. FEV1 is the amount of air a person can force from their lungs in 1 second.
Results may vary.
Remember, TRELEGY isn't a rescue inhaler for sudden breathing problems—it's a once-daily, 3-in-1 maintenance treatment for adults with asthma. Always have a rescue inhaler with you to treat sudden symptoms. If you do not have a rescue inhaler, call your healthcare provider to have one prescribed for you.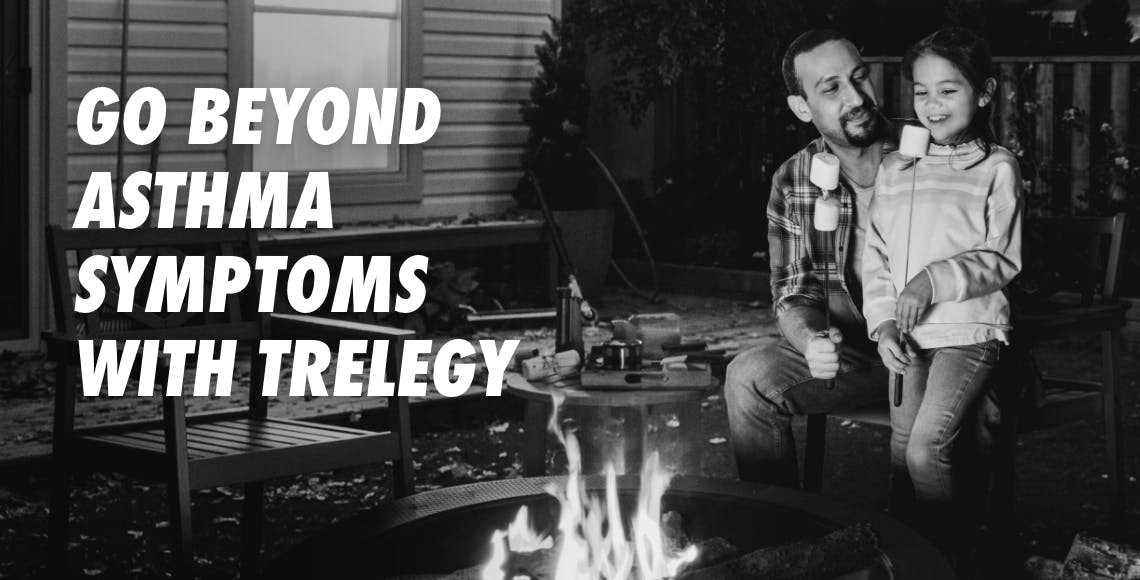 What triple therapy could mean for you
In a study, people taking TRELEGY showed signs of asthma control as measured by a questionnaire that considered:
Waking up in the night due to asthma
Asthma symptoms in the morning
Daily activity limitations due to asthma
Shortness of breath due to asthma
Lung function (assessed by a healthcare professional)
Interested in learning more about TRELEGY?
Sign up to receive more information about TRELEGY, including news, tips, coupons, and savings information.†
†For eligible commercially insured patients. Maximum savings of $500 per month between January 1, 2022 and March 31, 2022; and $200 per month at all other times. Restrictions apply.
PAY AS LITTLE AS $0‡
for up to 12 months
For eligible commercially insured patients, such as those insured through an employer.
‡Maximum savings of $500 per month between January 1, 2022 and March 31, 2022; and $200 per month at all other times. Restrictions apply.